Babies love anything that involves touching, tasting, looking and listening, especially in those first few weeks – have you ever wondered why?
Whether you have or you haven't, it's because babies crave sensory experiences; every single one of these sensory experiences then contributes to their physical, emotional, and social development, so you could say that the brain is in a state of 'extreme learning' from birth.
To help satisfy this need that babies have, it is vital that parents know what their baby is fascinated with in those first few weeks to months so that they can help them explore it. Here are 13 things your baby loves!
1. Your face
When they are not sleeping, babies love to spend most of their time gazing at your face. Why? Well firstly, a newborn's eyes focus best at around 8-12 inches which is the distance from your face to theirs when you cradle them while feeding. Secondly, a large part of our brain is said to be dedicated to perceiving, processing, and discriminating among faces so it is hardwired within us to pay close attention to people's faces.
At around 2 months of age, your baby will be able to recognise your face and respond to your facial expressions with a smile. Up until this point, help them explore your features by making funny expressions like raising your eyebrows and opening your mouth wide.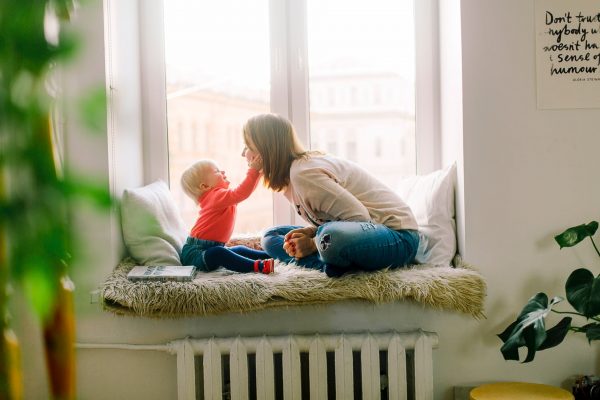 2. The colour red or green
Newborns don't see in colour at all so may have an early fascination with black and white patterns but as soon as their colour vision starts to kick in, many babies see bold, primary colours first. Many babies see reds and greens best first followed by blues and yellows.
3. Bigger children
Older siblings or even a jumping 3-year-old at the park can excite your baby. Why? Because children still have high-pitched voices which babies prefer. As well as this, young children are also full of energy, movement, and emotion, all of which can keep an infant captivated for a while.
4. Jewellery
Does your baby always grab your necklace or earrings? What is it about shiny and dangly things that makes your baby reach out and grab them? As jewellery reflects the light, your baby's eyes are drawn to it. Just like they are visually appealing to us, they also draw the attention of your baby too. The only difference is is that they are at an age where they feel the urge to reach out and grab things to bring them to their mouths for further exploration.
5. Mirrors
As we mentioned before, one of the things your baby loves is faces so of course, they love to look in mirrors! For a long time, babies are intrigued by their own reflection in reflective objects. It is only until they are about 18 months old that they realise that the baby they are smiling at is themself.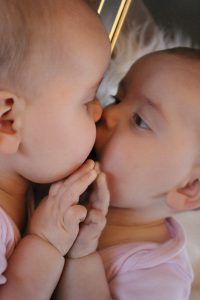 6. Banging
One of the things your baby loves is making noise and plenty of it (so remember that when they are banging on their high-chair with their cutlery!). As much as it may drive you mad, it is them learning cause and effect (e.g. when I bang this, it makes this noise). Encourage them to do so as it will help to develop their fine-motor skills.
7. Screaming
Just like banging, some babies love to make those ear-piercing screams. Again, this can easily give you a headache but it is all for a purpose. Babies who do this are simply exploring their vocal repertoire as previously, they were only able to communicate with you by crying. Again, this is their way of experimenting with cause and effect (e.g. if I make this noise, what will mum/dad do?).
8. Tiny spots
Have you noticed that some babies are fascinated with details? This could be a little screw on one of their toys or a smudge on the carpet, basically anything that seems insignificant to you. As newborns can only see in black and white, they notice contrasts or the edges of objects more than we do and as they grow, they feel an impulse to touch it, study it, and spend time looking at it.
9. Peekaboo
When thinking of things your baby loves, peekaboo is bound to come up on the list. This is because it is a fun and amusing game to start with. As your baby grows, however, they'll soon understand the concept of the game (that you're just hiding waiting to surprise them rather than gone) and they'll even start to enjoy initiating the game themselves!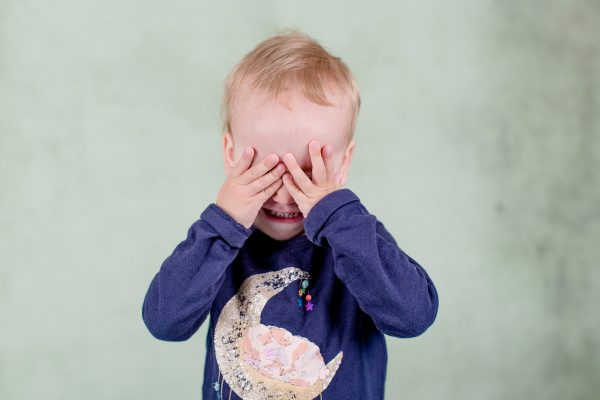 10. Being tickled
Young babies love being touched and getting your attention, so tickling their belly or feet will get you a smile or laugh in return. As your baby grows into a toddler, this becomes even more of a thrill for them too, not to mention that laughing together helps you to bond and become closer as a family.
11. The remote control
As babies grow older and start to test cause and effect, the remote control becomes intriguing. So many different buttons to press and so many different results. At around 18 months, the curiosity is at it's highest as they want to imitate what you do but you keep putting the remote control out of reach. Toddlers revel in pretend play and make-believe, so the remote control may be a fascination for many.
12. Funny words/sounds
As your baby grows and starts to understand what words and sounds are considered 'normal,' if you ever do something out of the ordinary, they absolutely love it! Blowing raspberries or making funny word combinations like "okey-dokey" or "lovely-jubbly" will get your child's attention.
13. Animals
There are many things your baby loves but nothing else seems to have a magical effect on them quite like animals do. Unlike toys, animals like cats and dogs move in unpredictable ways, they are interactive and they stimulate their senses. All of these excite your baby!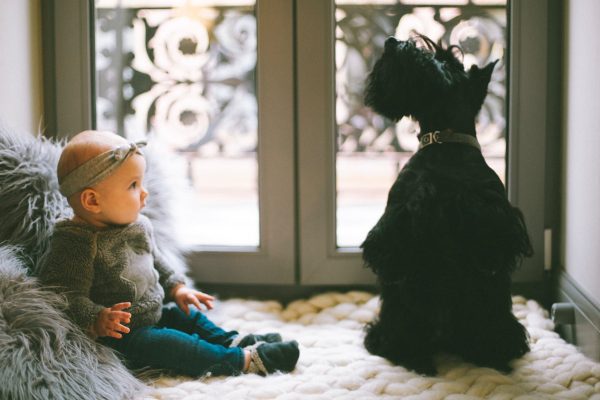 ---
At Schoolhouse Daycare, we enjoy learning, encouraging confidence and we love life! If you think your child would enjoy life at Schoolhouse, then please do not hesitate to arrange a visit.
Need more help or advice on how to encourage independence? Find more from us here: