Is your child ready to make the transition from nappy to potty? If so, read our previous blog first on "How to Master Potty Training: The Ultimate Guide," only then will you be ready to read about the challenges that you may face along the way.
The process of potty training is a combination of successes and setbacks so it's important to be aware of what the potential setbacks are so you can be prepared for them and handle them effectively. You may encounter resistance from your toddlers during various stages of potty training, so here is our quick guide to the most common potty training problems that arise and how to overcome them!
Problem 1: You are ready but your child is not
Is your child asking for a nappy when a bowel movement is expected? Do they then stand in a special place to go to the toilet? Is your child resisting to use the potty completely?
All of these are signs that your child may be physically ready to use the potty but they aren't emotionally. Praise your child for recognising that they need to go to the toilet, explain what needs to happen in a positive way and suggest that they make their special place to go in the bathroom until they are ready to use the potty.
Problem 2: Not sitting still or uncomfortable bowel movements
Active children won't sit still long enough to have a proper bowel movement so when you sit them on the potty, keep some books in the bathroom to keep them occupied.
Other reasons that your child may not poo on the potty or toilet is that it is uncomfortable for them or because they feel more in control when they are wearing a nappy. For toddlers who use the toilet, make sure to use a stool to support their legs and if they only poo in their nappy, empty it into the toilet and let them flush it away.
Problem 3: They don't make it to the potty in time
Accidents happen especially when children are running around or doing an activity; they just keep doing what they are doing, ignoring the urge until it's too late. All you can do to overcome this problem is to keep reminding them to use the bathroom, especially before leaving the house and dressing them in easy-to-remove clothing. Whatever you do, do not get upset or punish them as this will make them feel bad and will potentially take them longer to learn to use the toilet.
Problem 4: My toddler recognises the need to poo but not wee
You might be wondering why your child keeps on wetting themselves but they go to the potty when they need to poo. Don't worry, this is normal. Children learn to control bowel movements first while it may take up to many months for them to achieve complete bladder control.
Problem 5: Boys insisting on sitting down to wee
While this isn't a major problem, it is an important lesson to teach boys. If your son insists on sitting down, let them learn this first and only once they've mastered bladder control, explain to them that boys use the potty standing up. Let him watch other male siblings or his dad so that he can copy.
Read: How to Conquer the 5 Biggest Potty Predicaments
Problem 6: Going to the toilet after being taken off the potty
Does your child urinate or have a bowel movement right after you take them off the potty? This actually happens frequently as when you take them off the potty, your child relaxes. While this can be normal early on as it will take time for your child to learn muscle control, if it happens a lot, they may not be ready to start training yet.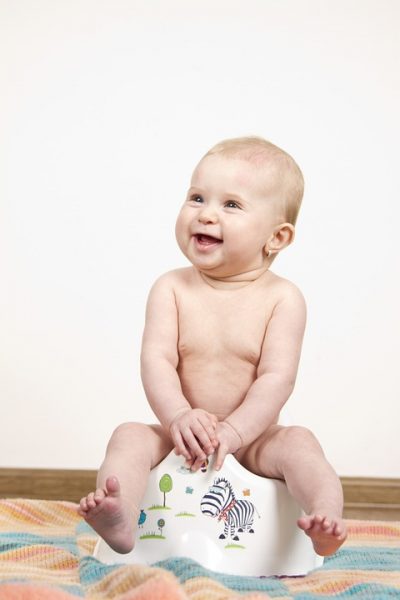 Problem 7: They stay dry during the day but wake up wet
Bedwetting is completely normal even months or years after daytime dryness is achieved as it takes some time to master nighttime bladder control. Encourage your child to use the potty immediately before going to bed and as soon as they wake up. Also, make sure they wear absorbent underwear in the night and tell them that if they wake up in the middle of the night and need to use the potty, they can go by themselves or wake you up to go with them.
Problem 8: They will only go to the potty with one particular person
This may be frustrating but some children are only comfortable training with the same person consistently. This is normal, just make sure to gradually withdraw yourself from the process. First, offer to help them undress then wait outside the door. Eventually, when they say they need to go, you can encourage them to go alone but to call you if they need any help.
Problem 9: Regressing back to nappies after weeks of being dry
Minor setbacks or complete regression is normal, especially when children are stressed or there's a big change in the house, so don't worry too much if your child insists on going back to diapers after successfully using the potty on their own for a while. Give it time, it will pass. All you can do is be positive and encourage them to return to using the potty.
Problem 10: An aversion to flushing
Another potty training problem can be a fear of flushing. The noise and rapid motion can be scary to some children so try and do it when they leave the bathroom first and then casually while you are talking or singing or playing. It will become less frightening over time.
If your child gets upset when they see their stools being flushed away, this may be because they believe that they are a part of them and they don't understand where they are going. Calmly explain to them what body waste is and why we need to get rid of it, make sure they know that it is a good thing and try to make it fun.
Problem 11: They only use the potty or toilet at home
The bathroom routine is so well established at home that children can be overwhelmed when it comes to using a different toilet. They may even be scared as the surroundings are so unfamiliar. Try and keep the routine as similar as possible. If you sing a song, sing it, or concentrate on the steps of sitting, talking, flushing and washing hands to show them that it is still the same wherever they are.
Problem 12: Fear of the toilet
Your toddler is a potty master but they just will not progress to the toilet. This may be because they are afraid of it, afraid of falling in or getting sucked down the hole when you flush it. Even children who use the toilet can develop a fear of it if they have one bad experience. To help lessen this fear, help your child feel in control. Explain to them that the toilet will only flush if they pull the handle and let them flush it themselves when they are done.
Are there any potty training problems that you've been experiencing with your child?

Be patient and don't worry if your child takes a step back every once in a while. This is an important learning process and it will take them however long it will take to fully transition from nappy to toilet.
At Schoolhouse Daycare, we enjoy learning, encouraging confidence and we love life! If you think your child would enjoy life at Schoolhouse, then please do not hesitate to arrange a visit.
Need more help or advice? See more from us here: